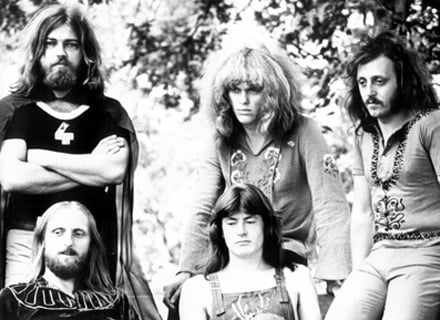 Omega. Source: http://www.progarchives.com
If you are a fan of Central European 60s and 70s progressive rock, chances are that you are familiar with Hungarian band Omega and their big hit Gyöngyhajú lány. For the rest of us, if nothing else, this will serve as an introduction to the music behind the iron curtain. One, who certainly seems to know his Central European progressive rock, or at least Gyöngyhajú lány, is Kanye West. Among the many cool and obscure samples on Yeezus, Jim Farber of New York Daily News declared the outro sample on New Slaves as the most cool and obscure of them all.
Omega formed in 1960 by two grammar school students, with their first official performance in 1962, coinciding with the formation of Goulash Communism in Hungary. The timing was no coincidence. A few years prior, the Hungarian Revolution of 1956 had been crushed by the Soviets, but a new foundation for the society was necessary to avoid future public uproars. Starting in 1962, restrictions on speech and movement were quietly repealed and, relative to other Eastern bloc states at the time, a liberal political approach to culture was adopted. The change of policy was essential in allowing the formation of a band that played covers of American and British rock songs.
The following years the band underwent several line-up changes, but achieved initial success making appearances at music festivals and released their first singles – all covers of well-known western songs, the first of which was Paint It Black originally by the Rolling Stones. The line-up changes, however, had brought in the willingness and talent necessary to come up with original material.
Gábor Presser, one of the new members of the band as well as keyboarder and occasional vocalist, teamed up with the young poet Anna Adamis to compose original material. In 1968, the band released its first full-length LP, a successful record in its own right, but it was the following year Omega found its true stride. The release of 10,000 lépés (10,000 steps) saw the group become household beyond the borders of Hungary and immortalized with several hit singles, including Gyöngyhajú lány (Girl with Pearly Hair).
The song was translated and released by several different groups across Europe, as well as releases in English (Pearls in Her Hair) and German (Perlen im Haar) by Omega themselves. Years later, the German rock band released an English version called White Dove as part of the live album Live Bites, with significantly different arrangement and lyrical theme. The original song tells a psychedelic story of people in darkness and a savior in the form of a pearl haired girl, as well as including a story-telling small blue elephant and the notion that it all may have been a dream, accompanied by a composition as psychedelic and unique.
Another successful outing with compositions by Presser and Adamis followed, but when Presser left and the band was subject to government censoring, Omega never reached the height of success of the late 1960s and early 1970s again. However, the band stayed active well into the 2000s. Presser himself went on to form the first Hungarian super group, Locomotiv GT, achieving further success.
More than 40 years after its initial success, Gyöngyhajú lány rose to prominence again as it was prominently featured during the last third of Kanye West's song New Slaves, the first track, along with Black Skinhead, unveiled from his 2013 release Yeezus. The sample carries the song's lengthy outro while Frank Ocean adds vocals on top of it until Kóbor János', main vocalist of Omega, first verse from is included in the songs fade out.
The story of the unlikely collaboration could have ended there, but recent development has again shined a light on the controversy of sampling in the hip-hop music. In May 2016, Gábor Presser filed a lawsuit seeking $2.5 million in damages for copyright infringement. According to the complaint, Presser was unaware of the sampling until he received a notice from West's legal representation indicating that he "would like to work out a deal with you as soon as possible", giving Presser a deadline of 24 hours to respond. Later Presser received a $10,000 check, which he according to the complaint never checked. The matter is, as of yet, not resolved.
Sources
Discogs (Omega)
Lyricstranslate.com (English translation of Gyöngyhajú lány)
NY Daily News (Jim Farber, 'Kanye West's 'Yeezus' is as much industrial rock as rap: music review')
Official website of Omega (translated through Google translate)
The Guardian (Reuters, 'Hungarian singer sues Kanye West for $2.5m over New Slaves sample')